About Forbury Service Centre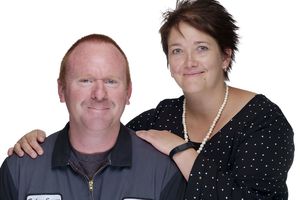 Forbury Service Centre is locally owned and operated by Andrew and Kim Peet, who bought the business in 2005.
Prior to them taking over, Forbury Service Centre was successfully run for over 18 years by the previous owners – that is a combined business life of over 32 years!
Andrew has been a qualified mechanic since 1993 and he learned early on that running a garage was more than just mechanics. Despite being based in Caversham, Forbury Service Centre has repeat customers from as far away as Mosgiel, Outram and North Dunedin. Some customers have been getting their vehicle inspections, servicing and repairs at the Forbury Service for well over twenty years.
One of the major reasons people keep coming back to Forbury Service Centre is the great service they receive. Andrew won't let a vehicle out of the workshop if it hasn't been done right.
It's no wonder the business has continued to grow, year after year.
A year after buying Forbury Service Centre, they bought another workshop and combined them.
Kim runs the business side. She is an accountant who was in public practice for over 15 years and handles all of the administration and accounts. Kim also takes care of the books at the other workshop they own with partners and also at Turboweb.
When Kim's not busy with all of her various working roles, she runs around after their two school-age children.
As a family, they love the outdoors and enjoy going to the beach, walking, cycling, and swimming. Friends and family are very important to Andrew and Kim, and they enjoy visiting them both here and in Australia.
Kyle Davis - Apprentice
Kyle Davis has been in the industry since 2016 and started at Forbury Service Centre at the end of 2018. He's got some experience at all things mechanical, and is starting to get into the electrical side of things. Kyle has a great positive attitude and is easy to work with, believing that if you're generally nice to people that everyone gets along a lot better. He says that Forbury Service Centre provides a great work environment with good people.
His favourite part of the job is the opportunity to work on cool old cars.
Outside of work, Kyle likes to spend time working on his own car and riding his bike – a KTM 390 Duke
Louis Robinson - Apprentice
Louis Robinson started his apprenticeship in late 2019 with Forbury Service Centre. He enjoys working on cars all the time – both at work and at home. He brings a great attitude and tries to be positive every day.
The variety of work at Forbury Service Centre is Louis' favourite part of the day, and he loves to see the finished product after working on a vehicle.
Outside of work Louis enjoys boxing, and doing up old cars.